Wednesday, May 10, 2019:
UEFA Champions league semifinal 2 had to be played at Tottenham Hotspurs' Stadium between them and Ajax. The two great teams, known for their attacking approach, meeting to fight for a place in the Champions League Final.
The managers and players were both in high spirits about the tie. Ajax Team composed of young, energetic and talented lads who could run fast and pace the game quite well. Tottenham on the other hand is also talented and quick but their point of advantage is their experience. All these factors combined made the tie really exciting to watch.
The new spurs stadium was in full swing…
Semi-Final Leg 1
Tottenham Hotspurs: Lloris, Alderweireld, Sanchez, Vertonghen, Trippier, Eriksen, Wanyama, Rose, Alli, Llorente, Lucas Moura.
Subs: Gazzaniga, Dier, Walker-Peters, Sissoko, Foyth, Davies, Skipp.
Ajax: Onana, Veltman, De Ligt, Blind, Tagliafico, Van de Beek, Schone, De Jong, Ziyech, Tadic, Neres.
Subs: Bruno Varela, Sinkgraven, Huntelaar, Mazraoui, Magallan, Dolberg, de Wit.
Referee: Antonio Miguel Mateu Lahoz (Spain)
The match started in the roar of the crowd and both teams looked eager to win. With their main players Son and Harry Kane out due to suspension and injury respectively, all eyes were on Dele Ali and Christian Erikson for Tottenham. While Ajax were counting on De Jong and De Ligt. Both the teams looked to be at their best but Ajax felt a bit more composed and had better game awareness at the point which blocked the ways for Tottenham. Ajax, just as in the entire tournament so far, were playing their own game with barely any pressure visible on the faces of the players, creating chance after chance.
Ajax were playing away from home but still in the early minutes, they looked completely confident and were playing their natural game. As soon as the 15th minute hit, Ajax from a throw in kept possession and while playing vertically, Hakim Ziyech broke the defense line of Tottenham and gave a through pass to Doony Vann De Beek who was now one on one with Ter Stegan and had all the time in the world to finish it to the left bottom of the Net and Goaaaaaallll… Ajax had the much anticipated breakthrough, an away goal advantage… The Goal was referred to VAR but it could not help the spurs as the goal was legal.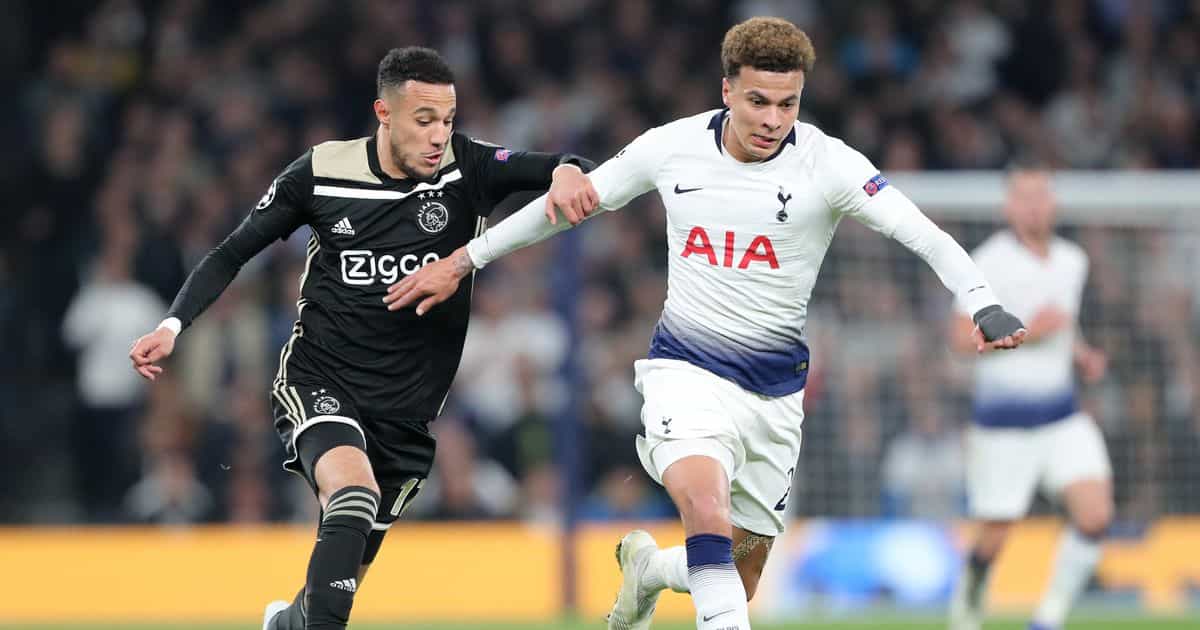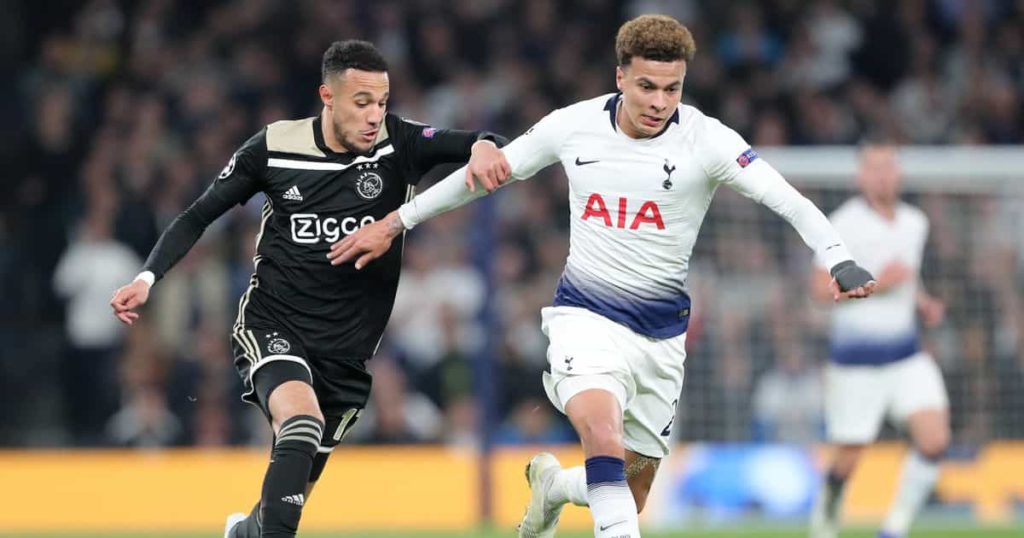 From this moment Ajax were playing well all the time and keeping Spurs working so hard for not to concede another one. In the 33rd minute, Spurs got a free kick which eventually was a stroke of bad luck as Toby Alderweireld and Jan Vertonghen went up for a header and it resulted in the latter busting his nose open after colliding with his team-mate. The medics rushed in to treat the injured player as his nose was bleeding intensely. After treatment, the player was back to play but Vertonghen was unable continue. He was struggling to stand uo and was replaced by Moussa Sissoko.
The First Half ended 0-1. Spurs Manager had a talk with the players at half time and the effect was clearly visible in the second half. Just in the very first minute of the second half, Fernando Llorente controlled the ball on the edge of the box and beat two Ajax defenders, before Dele Alli saw a shot charged down. Spurs were doing well in the second half as compared to the first one. They were creating chances and taking shots but all were either being saved by the Ajax goal keeper Onana or would miss the target. Spurs had some close shots especially at set pieces but all in vain.
The Match ended 0-1. Ajax won the first leg and spurs had to work hard in the training ground as they need at least 2 goals in the second leg while making sure a clean sheet. This was, indeed. not an easy task keeping in mind the fact that only one of the 17 previous teams to lose the first leg at home in a European Cup/Champions League semi-final tie has progressed into the final (Ajax in 1995-96).
Semi-Final Leg 2
How would Spurs respond to such a loss at home?
The wait had to be till a week when the both teams met each other, this time at Amsterdam.
The Miracle at Johan Cruyff Arena
After just the previous day's Miracle of Liverpool, Tottenham was playing away from home at Amsterdam in Johan Cruyff Arena with a hope of a comeback where they need at least 2 goals while keeping a clean sheet. Considering Ajax's current form, this was not an easy job to do. A sigh of relief for Tottenham that their Star Player is back in the stating 11 after being suspended for a game due to accumulation of yellow cards but the other, Harry Kane, was still out due to injury.
The second leg started and as expected Ajax just like they were all season, were fresh, ready, quick, and eager to win the tie and reach the final after a long while. They were playing attacking and aggressive game and giving the spurs tough time right from the start. Just in the fourth minute of the game, Dusan Tadic took a shot on goal which was brilliantly saved by the keeper with a full stretch to his left, deflecting the ball behind the line for a corner. But even this brilliant deflection couldn't save Tottenham as at this very corner De Ligt jumped high and headed the ball into the net and gave Ajax a well-deserved early breakthrough in the game once more. The Spurs had to do something to make an impact and it was in the very next minute that Son took the responsibility and dribbled passed the players to take a shot on goal and oaf! what a try it was. Such hard luck as his shot hit the post and the defender cleared it straight away.
Spurs were trying hard to equalize with Son, Eriksen and Lucas Moura all trying to create chances and taking shots but none could make an impact. In 35th minute, Tottenham lost possession in the mid and Ajax were quick to attack and in the final third, the first goal scorer Tadic assisted Ziyech, who took the shot with his left foot and placed it beautifully to left of the net and Lloris could not save it with his full stretch either. The whole crowd went wild, crazy and all cheering Ajax as now they were leading 3-0 on aggregate and had all the chances of qualifying for the final. The first half was the worst Spurs could ever imagine as they were already trailing by two goals and by three goals on aggregate.
As spurs knew that they have made the situation from bad to worst for themselves in the 45 minutes by conceding two goals. Now they came with a different mindset. It must be some good 15 minutes talk in the half time break that the spurs started playing aggressive and more attacking in the second half and just in 53rd minute, they created a great chance to score by a stunning long aerial through pass to Dele Ali but Onana made sure the ball did not go in. Spurs were trying everything; short passes, long passes, corners, but they needed something special in order to break Ajax strong and disciplined defence line.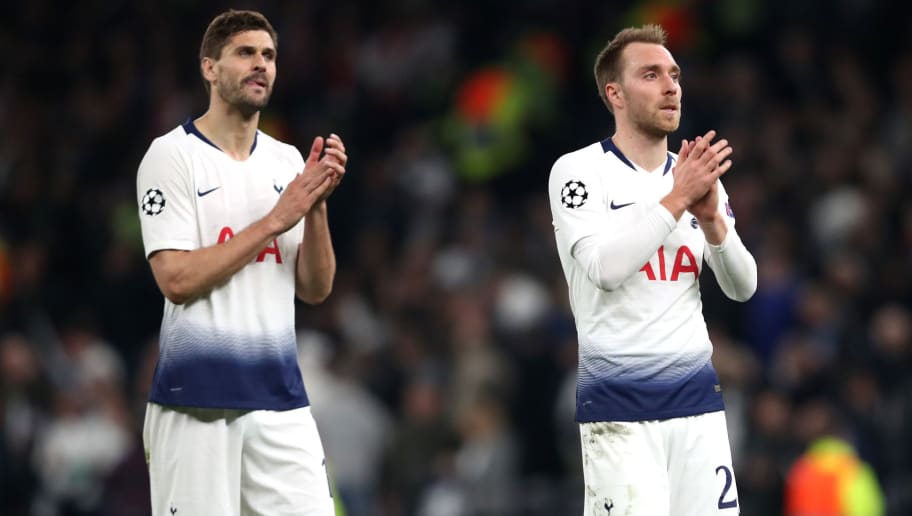 At 55th minute, Spurs showed they were not going out without a fight, with a perfect, quick counter attack as Danny Rose nutmegged the defender and gave a long pass to Lucas Mora who gave it to Dele Ali who sprinted to reach the final third and that's where the extra bit of sharpness came from Lucas Moura who took the ball from Dele Ali and with his pace, beating the defense, scored with the left foot into the left bottom of the goal. That was the moment when Spurs again saw the ray of hope. The crowd was roaring and the Spurs were back on their feet and putting pressure on Ajax. Just few minutes after, spurs got another chance to score but the keeper saved it. The ball went to defender and again Lucas Moura showed his sharpness, gaining possession and with some amazing footwork, took the shot and scored. WHAT A GOAL! Lucas Moura had made the stadium alive again. The hopes are even higher now with all fans cheering even louder now and the game is 2-2 and Ajax leading on Aggregate 3-2.
Spurs were playing way better now but both teams were fighting their hearts out in order to reach the final. It was such an end to end game with no time to rest. Till the 90th minute it was all square with both teams getting so close to score that both had hit the pole but were not able to score.
5 minutes injury time was added to the game and it was as if the last life the spurs have got and Ajax were just 5 minutes away from taking themselves into the Final. Oh! what an atmosphere it had been. What an intense situation it was when Ajax only needed to defend for a mere five minutes and spurs needed just one more goal to qualify to the final on away goals. It's the last minute, just when everyone was ready to leave, thinking Ajax have qualified, there came one final chance for spurs. The chance that one would never dare to miss. One that was the most awaited. One that could send them to Madrid. Sissoko was kicking the ball long to the final third but the ball could not be controlled by the players and falls to Dele Ali. He produces a one touch through pass to Lucas Moura and with his left foot once more, he finishes it. GOAL! And a sublime one.
Lucas Moura sends Spurs into the UEFA Champions League Final 2019! And in such style with a semi final Hat-Trick to his name. Shocking everyone. Unbelievable! Everyone was stunned. The crowd roar reaching the sky. The Ajax players are on the ground; their dreams are stolen from them; hustled away.
Oh Mauricio Pochettino! He can not stop his emotions; the joy of the miraculous victory has overwhelmed everyone. The manager is crying as the Tottenham has reached UEFA Champions League Final for the very First Time in their club's history. Everyone was so emotional and whole world was in state of shock with what everyone has just witnessed. It was the Spurs celebrating in Amsterdam at Johan Cruyff Arena. Mauricio Pochettino gave emotional press talk after the game. He thanked all the fans, players and staff who believed in them. He was in tears and was thankful to his family for their support as well and so much more positive talk.
Later in Press Conference Mauricio Pochettino said,
"I think scoring a Hat-Trick, three goals, if our players are superheroes, he is (Lucas Moura) a super, super, super hero. I think he was amazing. Ge was very clinical in front of the goal. Yes, I think a fantastic night, a magical night for him but that showed that the team is more important than any name and when you don't play one, play another."
Tottenham Hotspurs will Now face Liverpool next month at Wanda Metropolitano in Madrid for UEFA Champions League Final 2019.