The world is waking up to blockchain technology. As the NFT community rapidly grows, it's more essential to understand the appeal of this relatively new marketplace and why it's here to stay.
Let's begin with some definitions. Web 1.0 was when the internet first came out and was read-only. Web 2.0 was when social media first came out, and users could read and write, but they did not have ownership of what they contributed on these social media platforms. We are now in the beginning stages of Web 3.0, where users can read, write, and own their content by leveraging blockchain technology. Blockchain technology includes:
Non-fungible tokens (NFTs).
The metaverse (a space where individuals from all over the world can connect on a virtual platform).
Other decentralized systems where no one company or organization governs.
Instead, these systems are managed by the individuals who participate and own the assets which make up that system.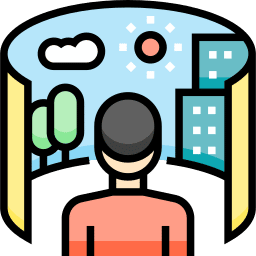 For example, many find immense satisfaction in NFTs for the recognition and respect they receive from their creative expression. Because the NFT community is still relatively new, support is welcomed in an all-hands-on-deck sort of way as new projects, platforms, and ideas are springing up regularly that exhibit unique creativity and expertise within the industry.
In short, blockchain technology is here to stay and here's why. Big brands are beginning to integrate this new technology because they see the massive potential. The utility accompanying NFTs is endless, from ticket stubs to coaching support. With these endless possibilities comes an exuberance of creative expression being exercised.
NFTs streamline processes and improve efficiencies by removing the "middle men" and unnecessary steps that bog down the current system. NFTs provide a means to directly support creatives, giving renewed hope of ending the "starving artist" persona. Furthermore, NFTs allow for continued dividends on intellectual property. The "one-and-done" sale paradigm ends as NFTs provide continued dividends in perpetuity. Lastly, NFTs build community growth and empowerment as many are deploying NFTs in combination with real-world utility and social good to make a difference for the causes they believe in.
Collaborations are highly encouraged and rewarded in this space. Unlike in Web 2, where only those with huge followings could prevail, Web 3 allows rewards to be reaped through teamwork and aligned partnerships. These examples provided why blockchain technology is here to stay, to name a few. There are countless other reasons this technology isn't going anywhere anytime soon.
This brings us to leveraging your expertise to use this technology. The following steps are best for creatives who want to build community within the web3 space and beyond. They leverage this new technology to creatively express and build additional revenue streams around their gifts, expertise, and talents.
Step #1. List your innate gifts, the expert skills you've learned during your career path, and the talents you've been honing and working on throughout your life, including at least seven attributes in each category.
Steps #2. Conduct market research to see how others in the NFT community leverage some of these shared assets. Per Gary Vaynerchuk, 50 hrs of homework should be completed before taking action.
Step #3. Create a Twitter account and hop on Twitter spaces. This community-building step is of utmost importance, and many mistakes skip this vital step. Connecting with other NFT Creatives on Twitter allows community-building to begin from day one. Lack of community is the #1 reason projects fail, so do not skip this step. Twitter Spaces is a live audio conversation directly on the Twitter platform. During these stages, you can join the hosts "on stage" and share who you are, what you are working on, and what you are welcoming support with on your journey. Keep in mind that not every space is built alike, so it's essential to take the time to find communities that are in alignment.
Step #4. Join & engage in Discord communities. The Discord platform takes community-building to a whole other level to strengthen the bonds between community members. Once again, keep in mind that not every community is built, so find communities that are in alignment.
Step #5. Listen to podcasts that feature NFT creatives to learn how they got started, plus tips & strategies on how to boldly creatively express yourself to empower you as you achieve your version of success in web3.
As you move through these steps, remember to take aligned action by asking for help and reaching out for support when needed as you navigate & leverage blockchain technology.